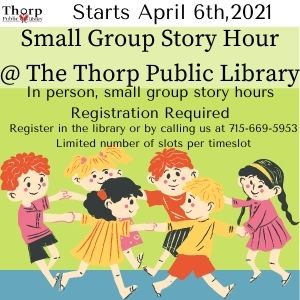 Small Group Story Hour
Tuesdays 10:15-10:45 AM & 11:00-11:30 AM
Come join us for Small Group Story Hour! 
Every Tuesday at 10:15 AM- 10:45 AM and 11:00 AM – 11:30 AM we will be having a small group story hour for up to 9 participants, children plus their attached adults.
Pre-registration is required. Either call us at 715-669-5953, or stop by the library to register. They are first come, first serve and registration needs to be completed by Friday of the week before if you plan to attend. Masks are required for everyone age 5 and above due to state mandate.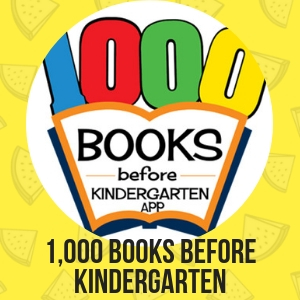 1,000 Books Before Kindergarten
An on-going program to promote reading to newborns, infants, and toddlers and to encourage parent and child bonding through reading. Sign up at the Thorp Public Library.
Log the books you read with your child for rewards!
Hours
Mon & Tues: 10:00 am – 7:00 pm
Weds & Thurs: 10:00 am – 5:00 pm
Fri: 10:00 am – 4:00 pm
Sat: 10:00 am - 12:00 pm